I struggled with the first article I ever wrote. I was a sophomore in undergrad taking Intro to Media Writing. We were asked to write a short article based off of a press release. Midway through the assignment I got up and asked my professor for some help. "How should I write this," I asked. He responded, "Like
you
would write it." To this day, that is the best advice I have ever received. It made me see journalism as I do today – an opportunity to tell people's stories using my voice – and love writing. Unfortunately, while working in the field I met journalists who saw writing as a job and nothing more. The more journalists I met that had this complex made me wonder what the root of it might be. After considering potential causes, I realized educational foundation might have something to do with it.
I don't want students to just view their future profession as a job. I want them to love to write, and understand all of the opportunities journalism has to offer.
Generate Ideas
: People often use the phrase, "Think outside of the box." Well, I like to think there is no box. There are no limits. That's why I want students to understand the importance of generating ideas. I encourage them to do this by keeping their ears and eyes open to what's going on around them. Having ideas shows that you are taking initiative and actively seeking stories. Too often journalists become complacent and rely heavily on assignments, or cover what is most readily available. They are tempted by the "low hanging fruit." I don't think this allows a writer to grow and develop. There are so many interesting people out in the world. Like the wise man Joe Dirt once said: Life's a garden. Dig it.
Stay Confident
: Some submitted stories aren't that great. I think it is important for students to recognize these stories, but then move on. I remind students to focus on their strengths and stay confident in their writing ability. I also think it is equally important for students to have this sort of confidence in their personal lives as well. A person's outside life can, and often does, have an impact on their professional performance.
Follow through
: Being a journalist can be tough. You might call to schedule an interview with someone and then never hear back, or you might chase a lead that goes cold. Instead of moving on though, it is good practice to follow through with something until it has been completely exhausted. I think this is important because it helps students build a solid work ethic. I have had students work on stories that seemed like a boring chunk of coal, but when they continued to work with it they often transformed from coal into a true gem.
Be human
: I think a student's first responsibility is to be human. While I try and challenge them on a daily basis, I understand that they are not Atlas. They should not be expected to carry an unreasonable load. Students have other things going on outside of school, so I try and keep that in mind if they come to me with questions, struggles or just to talk. I believe it is important for instructors to show their human side as well. I feel that this creates a comfortable environment in which students can be themselves and excel.
Expand Your Skill set
: If you're a one-dimensional reporter in today's market, you're going to have trouble standing out. For a writer, it might be a little intimidating to shoot video and use editing software. For a photographer, it might be a little intimidating to use words instead of photos or video to tell a story. However, an academic setting is the perfect place to explore different mediums. I try and introduce students to different forms of storytelling by allowing them to pursue what they are most passionate about in hopes of making the experience a little less daunting. Passion is a key ingredient in deflating nerves. Abiding by all of these things has allowed me to form a relationship with students and help them develop the skills and confidence they need in order to succeed in not only their future journalistic endeavors, but also in life.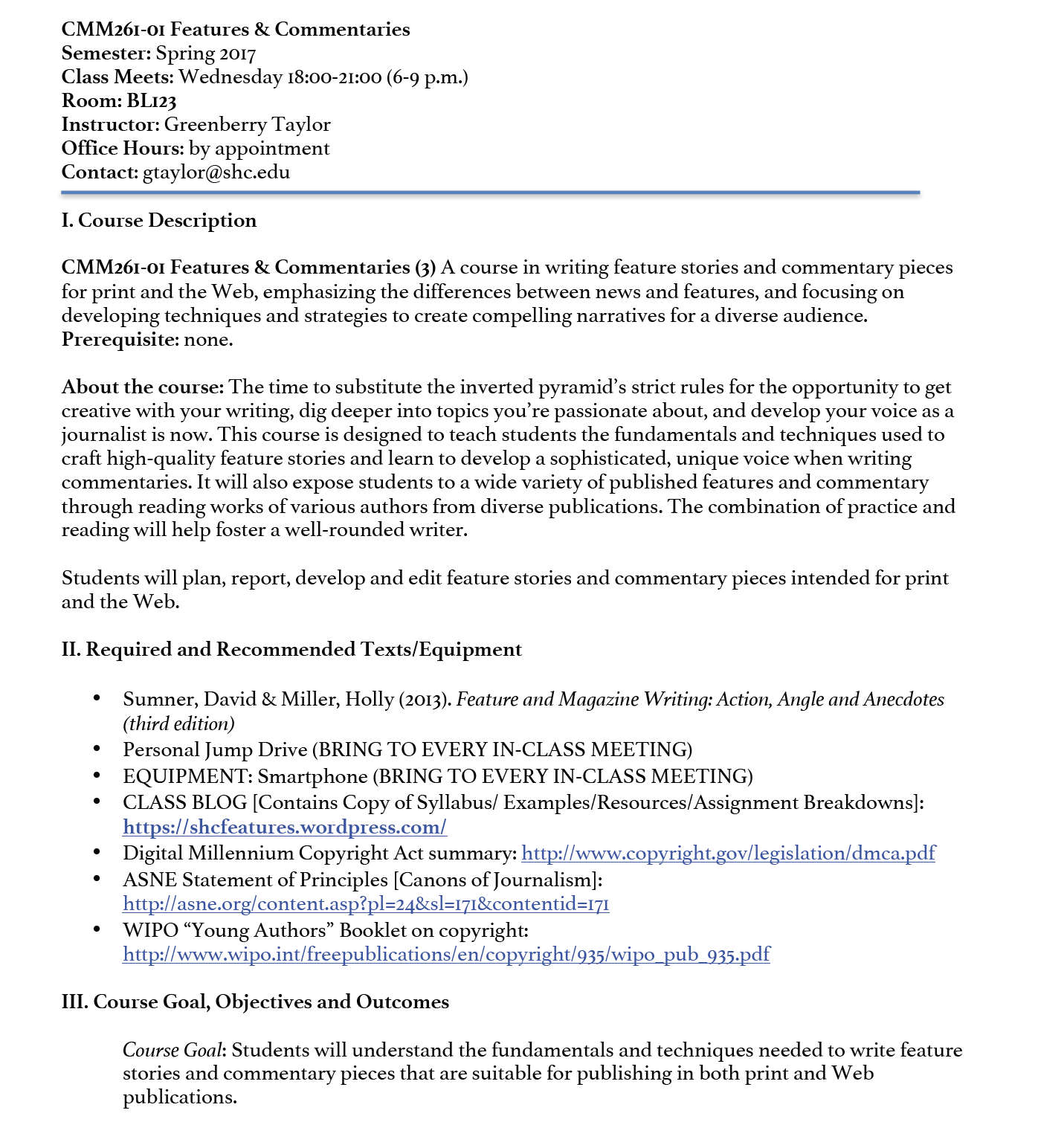 Course: Features & Commentaries
The time to substitute the inverted pyramid's strict rules for the opportunity to get creative with your writing, dig deeper into topics you're passionate about, and develop your voice as a journalist is now.
This course is designed to teach students the fundamentals and techniques used to craft high-quality feature stories and learn to develop a sophisticated, unique voice when writing commentaries. It will also expose students to a wide variety of published features and commentary through reading works of various authors from diverse publications. The combination of practice and reading will help foster a well-rounded writer.
Institution:
Spring Hill College
Semester(s) Taught:
Spring 2016
Website: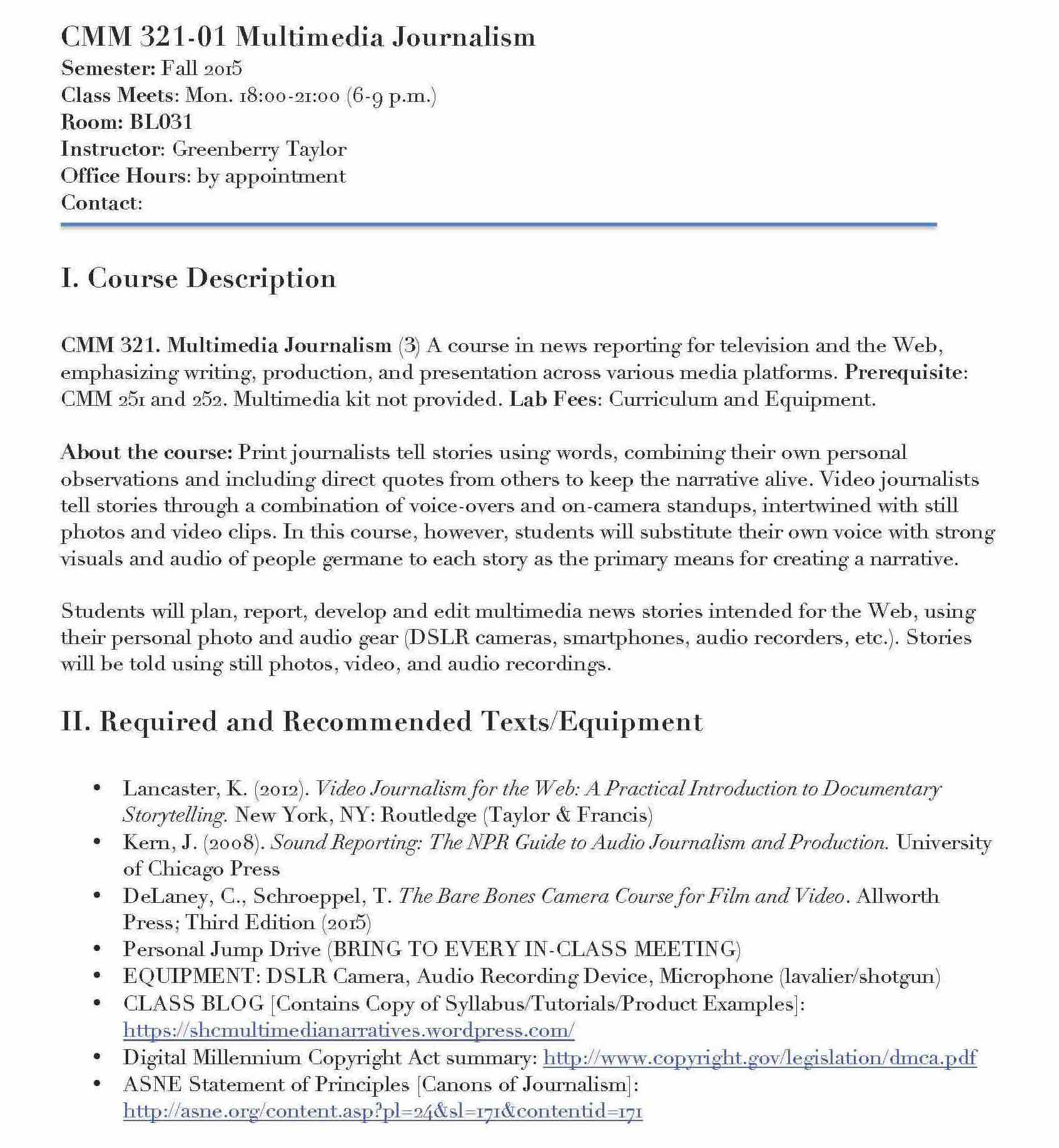 Course: Multimedia Journalism
As the media landscape continues to shift and evolve, so must journalists. Performing as just one type of reporter — print, photography, broadcast — is no longer enough. The job market is becoming less, and less impressed by reporters who can "do it all' — it is becoming the industry norm.
Throughout this course, reporters will become proficient in creating three different types of stories designed for a Web audience: audio, still photography, and multimedia packages. Most importantly though, students will be encouraged to find projects they are passionate about. When students ask what they should do for projects, our response is: Do what makes you excited!
Institution:
Spring Hill College
Semester(s) Taught:
Fall 2015
Website:
---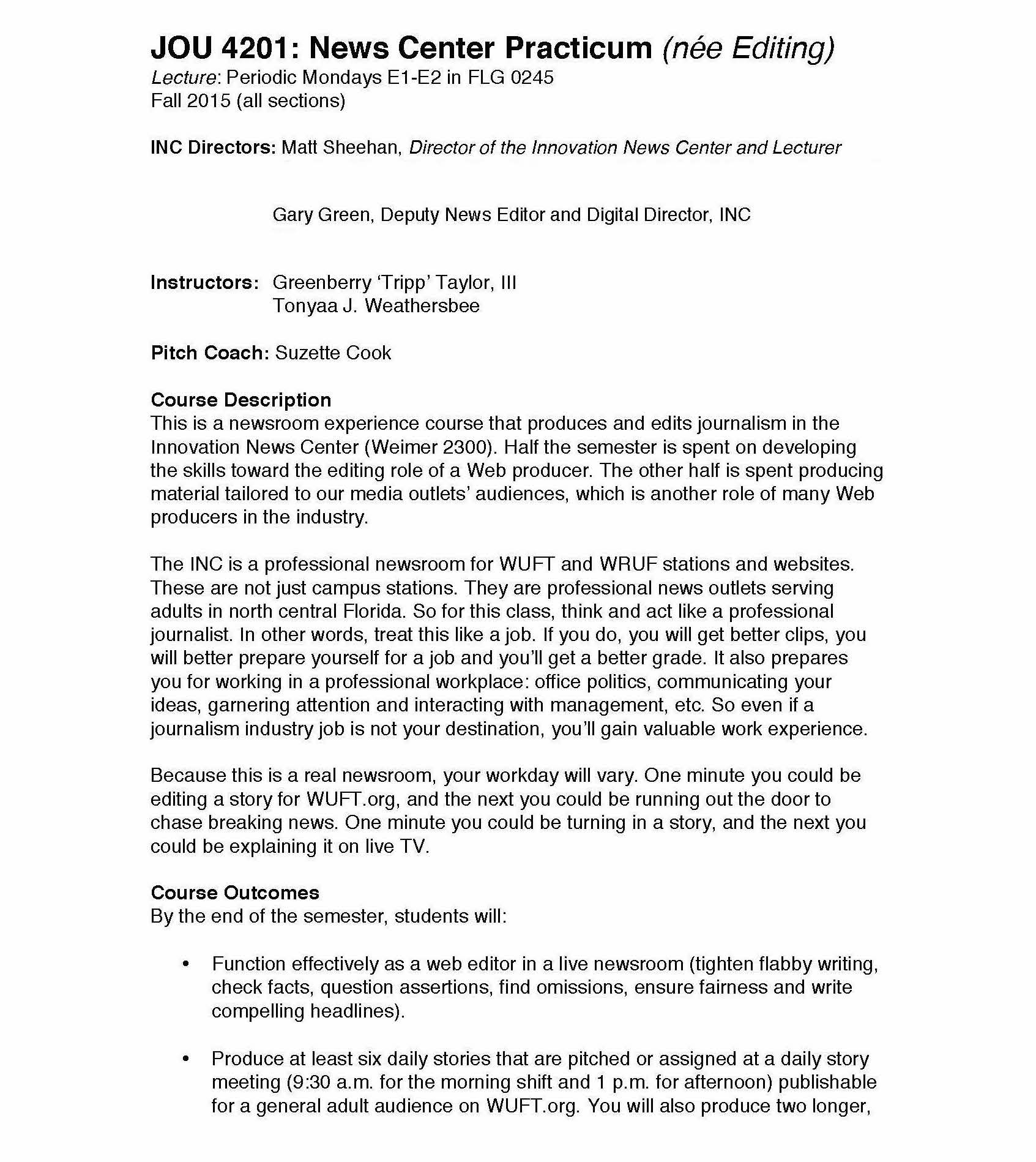 Course: Editing
This course is one of the more challenging in the College of Journalism and Communications' curriculum. It requires students to facilitate the role as both reporter and editor throughout the semester. Students work in the Innovation News Center (INC), a live newsroom that houses radio, television and web.
As editors, students examine their peers' submissions, focusing on content quality, fact checking, AP style and grammatical errors. Final stories are published on WUFT.org. As reporters, students are required to bring ideas to daily pitch meetings, and are then sent into the field to report. They are required to publish daily stories and in-depth features. I was involved with this course for the majority of my graduate school career, serving as a teaching assistant for four semesters and instructor of record for one.
Institution:
University of Florida
Semester(s) Taught:
Spring 2014; Fall 2014; Spring 2015; Summer 2015; Fall 2015
Website:
---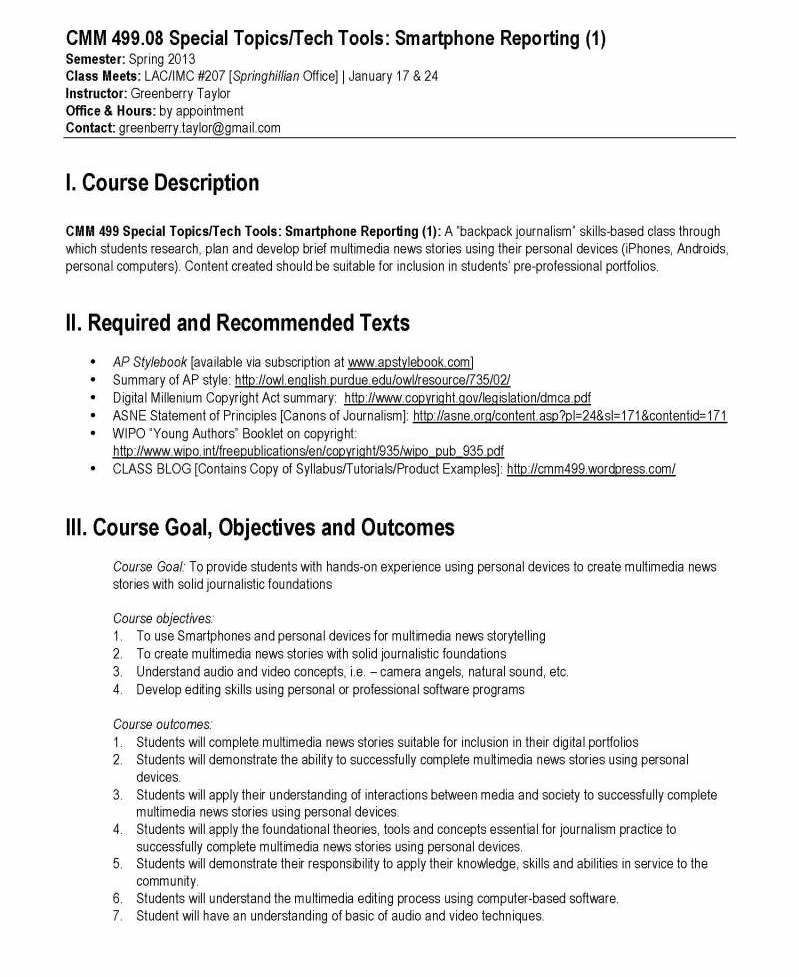 Course: Smartphone Reporting
This course taught students how to use their personal smartphone device in the field to create digital stories.
I was sought out by Spring Hill to assist in the department's transition from traditional to digital reporting by developing a one-credit-hour skills-based class. As the Multimedia Editor for the publication I worked for, I had taken on the task of mobile reporting. Over time, I became skilled at this type of storytelling. The course was designed based on my experience shooting and editing short, multimedia stories intended for web.
Institution:
Spring Hill College
Semester(s) Taught:
Spring 2013
Website: